Kids' farm in Saalfelden
Family holiday in Pinzgau 
---
A holiday with family is truly something special. Leave everyday life far behind and finally enjoy some time with your partner and children. You can enjoy this feeling here at the Oberhasling organic baby and kids' farm in Saalfelden at the heart of the state of Salzburg and spend a relaxing time with your family.
We offer two cosy holiday apartments in the farmhouse. These apartments are the ideal starting point for your excursions and activities as well as providing the perfect retreat after an intense, adventure-packed day's holiday.
Our farm is located on a small hill at the centre of the Saalfelden basin where you can find
rest and relaxation along with unique panoramic views of the Pinzgau mountains. Whether an adventure, activity or relaxation holiday – the Oberhaslinghof is always the perfect holiday location for a farm holiday with children. With swimming, walking, cycling, mountaineering and mountain biking in summer. And in winter, there are numerous lifts in the nearby large ski resorts, ideally prepared cross-country trails and toboggan runs and a natural ice rink on the Ritzensee lake for the perfect winter holiday with family.
As a guest at our baby and kids' farm, the 'Saalfelden Leogang Card' and all its advantages is included in the price for the duration of your stay – an upgrade to your holiday at Oberhasling organic farm!
Visit us at the Oberhasling baby and kids' farm – we look forward to welcoming you!
Christine & Sepp with Martina, Andrea and Julian
The holiday apartments 
There are two cosy holiday apartments to choose from at the Oberhasling organic farm. The accommodation offers 50 or 60 m2 of space and houses up to 4 or up to 5 people. Our facilities for babies and small children can be provided, on request. The homely and fully furnished holiday apartments leave no wish unfulfilled. 
Baby and kids' farm 
Younger guests are welcome on our organic farm. Here you will find a large playground, lots of play equipment, animals to stroke and cuddle and plenty of space and nature in the meadows and forest.
Farm holiday 
'Farm holiday'- this means nature, solitude, freedom space and adventure. Here you can experience a great deal in harmony with nature. Enjoy a peaceful and relaxing holiday with us at the Oberhasling organic farm in Saalfelden in Salzburger Land. 
Holiday in Saalfelden 
Saalfelden in Salzburg's Pinzgau region is a small mountain town which offers all the benefits of a city with shops, restaurants and bars as well as pure untouched nature and a peaceful, rural setting. Here you can plan your holiday to your heart's content – savour the peace and quiet on the organic farm, exercise in nature and in the fresh air, experience an adrenaline rush with action-packed sports or take a stroll through the town or a shopping tour. The choice is yours!
Saalfelden Leogang Card
Every guest at the Oberhasling baby and kids' farm will receive the 'Saalfelden Leogang Card' for the duration of their stay, provided by us – this is included in the price of the holiday apartments. A free upgrade for your holiday!
Our family
3 generations live under one roof in our farmhouse. We all manage our organic farm together as a family. 
Christine and Sepp – the 'farmers': took over the farm from the parents in 2005 

Martina, Andrea and Julian – the children: the future

Maria and Hans – grandma and grandpa: still work hard on the farm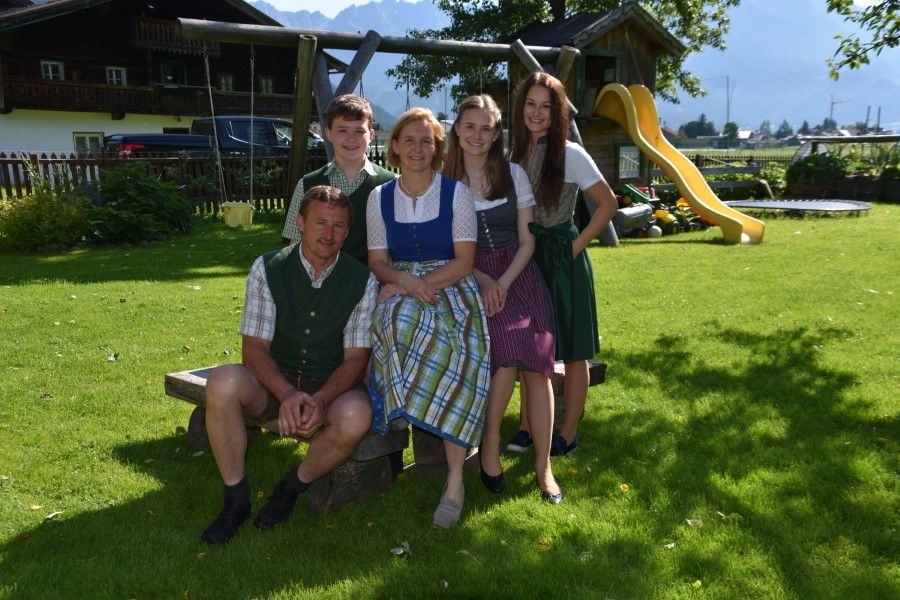 Benefits for you at the Oberhasling organic farm 
Saalfelden Leogang Card included

Situated at the heart of nature yet near the town

Free use of public transport in summer 

Organic produce direct from the farm

Children are welcome

Equipment for babies and small children available 

Lockable ski and bike store

Boot dryer

Saalfelden Nordic Center with lots of offers 

Famous ski resorts in the area